So Dani wrote a fansatic, moving, and simply beautiful blog post about her pre-RAAM thoughts. You should read it
here
.
I am not quite ready to write my version of that blog post yet. Instead, I am writing about my little vacation in Southern California. At this moment, I am sitting in the hotel room with the instructions to "keep my feet up and drink lots of water," from my crew chief Anne while she and George start picking people up from the airport. Those instructions mark the official end of my play time and the start of actual RAAM prep in California. But, man, we have had some FUN in the last couple of days!
I left off this blog with my nice ride down bike path that makes up the first 8 miles of RAAM. Once I got back from the ride and George from his run, we headed out to this awesome place to eat. I told George I wanted fish tacos, and he delievered:
Fish is the only kind of meat that I eat, and I really do enjoy some at the beach. We also tend to eat family style when Anne, George, and I eat together. Because of that, I ordered an octopus taco so everyone would try it! Suprising delicous!
After dinner, we went to the beach and watched the sun set over the ocean. I think that a watery sunset might be one of the best parts about being on the West Coast.
The next morning, I got up earlier than Anne and George, walked down the street to Jitters (my favorite coffee shop here!), and spent a few hours reading and sipping a latte. I showed the woman the picture of the chocolate chip muffin with almonds that I had before the start of last year's RAAM, and she promised to make it for me again this year! You better bet I'll be back there to get my muffin!
We went to rent George a bike so that he could ride with me, and we ended up buying the Go Pro we have been talking about for a couple of months. So, I am going to finish RAAM with better pictures then just my phone! I am really excited about it (and calling it my birthday present). I don't really like cameras, but I think it's going to be awesome to film some of my night time decents from the perspective of my handlebars!
Then, mid-morning, the three of us went to go get some omlettes. Then, Anne had a million errands to run, and George and I went to the start of the solo racers. Though our start is not until Saturday, the people who are attempting this race alone (from all over the world) already started.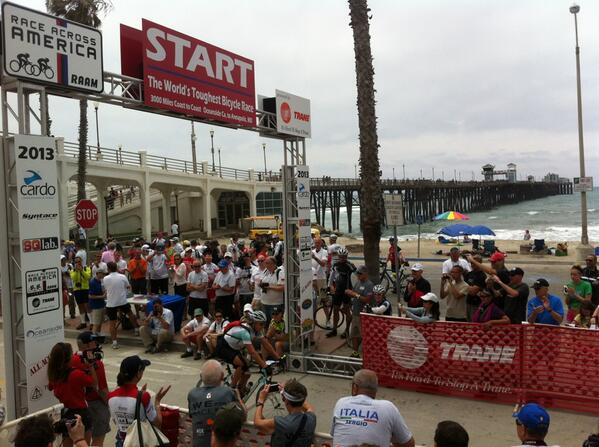 There are only 5 women attempting RAAM solo this year. By the time I got to cheering for them, I was so nervous that I could not even stand up anymore. They take a minute to talk to and interview each rider before they start. Watching them, you could FEEL the engery, the nerves, anticipation, and excitement. I actually thought I might throw up by the end of it. What courage they have.
I went over to the expo and bout a couple of souveniers, including this gem of a sticker for my car!
After the exciting start, it was time for some relaxing. My back and legs still felt icky from the drive, so I got a massage at Apothoque spa. Part of my relaxing afternoon also included a haircut with some pink hair dye, and "hair tinsel," which just adds so much to my ponytail!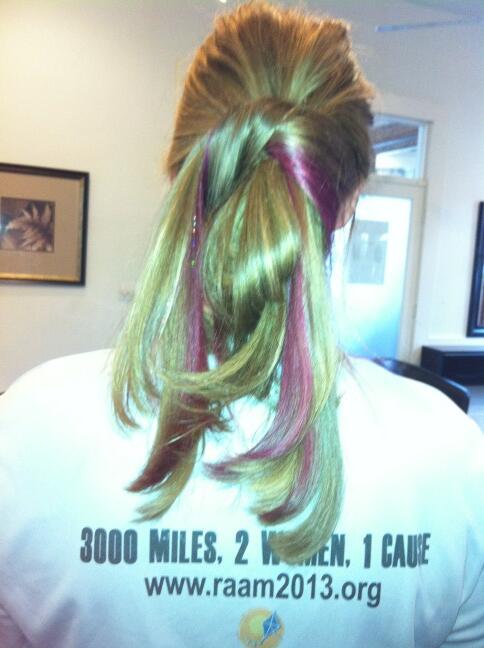 Or maybe I just want to look more like Jem. I loved that show when I was a kid. I think this IS my Jem moment!
Now, if I can just find some light up pink earrings.
I DID get my nails painted glittery pink and purple! I told the awesome nail lady that today was not the day for being subtle. This was going to be the little piece of me that was pretty and sparkling when I do not feel that way! I really like having pretty nails when I am racing.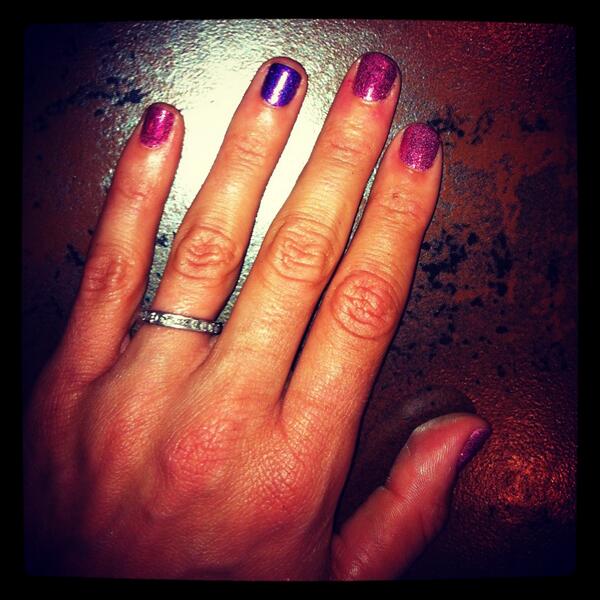 All in all, it was just an awesome afternoon with Anne! I left that nice salon feeling fresh, clean, and relaxed.
Then, George and I went on a ride together. He had rented a bike from a local bike shop, but it is not really all that great. We decided to do about 9 miles har and then easy 9 miles back. It was really fun and helped me shake out some nerves.
After the ride, we went and got some Thai and Sushi. Yum.
This morning, George and I rode down the Coast Highway nice and easy and had a great ride. Then, we went to lunch and had some fresh juice and a great meal.
After that, I was told to go to my room and spend the afternoon resting. Dani is at the airport and I can't wait for her to get here! Ponytails unite!
We start Saturday at noon!Tonight, most of the crew flies in, and they start some serious race prep! Dani and I will be intervied tomorrow at a press conference! You can watch us here:
www.ridefarther.com
Don't forget to follow our team's social media!
Twitter: @powerponytails